THE FACE NNA 2020 FINAL WALK – Gorgeous stage, confident contestants and impressive performances
The competition of The Face NNA 2020 has officially ended with the victory of a lovely sophomore – Ngo Thi Kieu Xuan.
After getting through several rounds of tough competitions, teachers and students of the Faculty of English Language devoted their best efforts to organize the most magnificent finale ever within the framework of extracurricular activities for Lac Hong University students.
The Final Walk was held at Golden Palace Convention Center, with more than 500 invited guests including the representatives of the Rectorate, representatives of faculties, departments and offices, and representatives of businesses and sponsors together with students of the Faculty of English Language and other faculties.
With the intention of offering an environment of working hard and playing hard, the organizers successfully created a splendid Final Walk. It could be seen that all the guests attending the show had chosen for themselves the most beautiful and fanciest outfits to match the nature of the event. Besides, the contestants appeared surprisingly with a transformation in their look thanks to the costumes and makeup sponsored by well-known make-up academy, bridal studio and dress maker. This must be one of the factors that boosted the contestants' confidence in order to conquer the hearts of the panel and the audience.
The Face NNA was not only a playground of stature, but also a place where the contestants had to show their English language skills and teamwork spirit. The organizers, as well as the school and faculty leaders always consider taking good care of the students, equipping them with professional knowledge and supporting them in their physical, mental and social lives, which is the priority in the faculty operation and development. And The Face definitely left FEL students the nicest memory in their college time.
Some of the nicest moments of the Final Walk: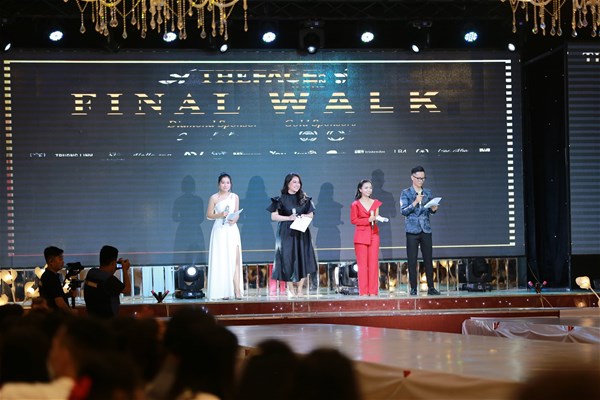 Sponsors receiving flowers from representative of LHU Rectorate

Contestants' performance

Confident and impressive performance of FEL student

Winner announcement
Ngo Thi Kieu Xuan - The Winner