For a student who is about to graduate or just graduated, the journey to find a job is always a difficult and challenging one. Having professional qualifications, good transcripts, but that is not the deciding factor for employers to choose you? Thorough preparation in all aspects is always the key to a favorable interview and a good impression.
For the candidates, making an impressive, completed CV to attract the attention of employers is a top priority task. So, what is CV?
The CV stands for Curriculum Vitae. The exact translation for this phrase is "one's life". However, in reality, it means much narrower. According to the Oxford Dictionary, CV or also known as Curriculum Vitae is a brief account stating a person's education, career, personal information, ... Often attached to job applications to recruiters.
The CV usually contains the following information:
Personal information such as first and last name, email, phone number, address, etc.

Academic level

Work experience

Achievements or skills

Habits and preferences

A desire for work.
Today, to save time and verify the candidate's qualifications, a CV with full information, achievements and experience will help recruiters easily choose the most suitable person for the recruitment position. Besides CV, to have a successful interview, it is necessary to converge many important factors to grasp that, the English Language Department organized a seminar on job application skills led by Mr. Nguyen Vu Kinh Kha - Director in charge of the General Department, Dong Jin Textile Vina Co., Ltd. presented, took place at 8:00 am on May 25, 2019, at Hall D503, Campus 2, Lac Hong University.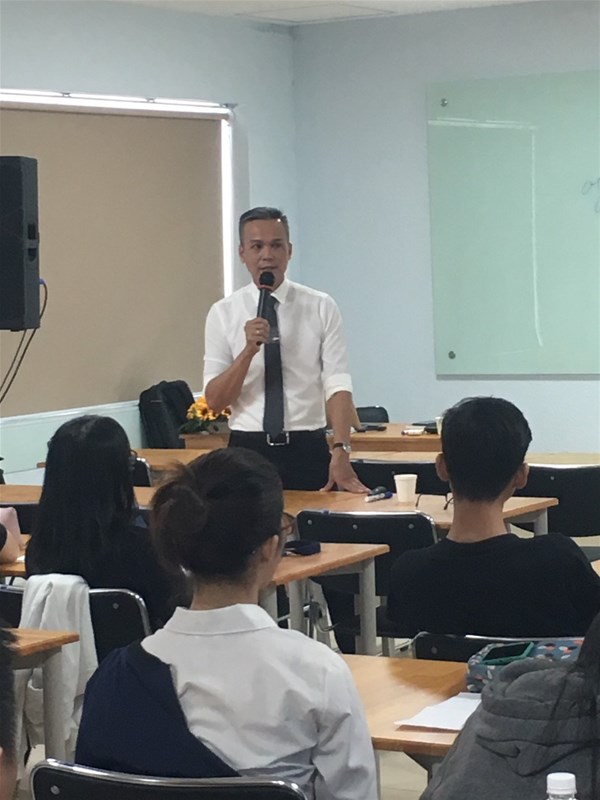 The seminar was attended by Mr. Pham Thanh Binh - Internship Consultant of FEL and more than 70 students currently studying in the 4th year of the Faculty of English Language. The topic revolves around 03 main contents: How to set up a job application, Interview skills, and Notes when applying for jobs & discussions. With the knowledge and experience conveyed by the speaker, it's expected that the English Language Faculty students will be confident and successful in the job interview so that they can find a job for themselves which they have cherished since they were students.